Sale!
Sucking Vibrating Blowjob Masturbator
Description
Sucking Vibrating Blowjob Masturbator Our newest cutting-edge masturbation cup for men simulates true swallowing with a powerful vacuum suction pump. Contains a strong motor with three suction settings and four vibration modes. You can easily combine the suction and vibration modes, match whatever function you want, and she will serve you faithfully! The vibration and suction will have the highest frequency combination when you click the One-Click Orgasm. The inner sleeve will contract and squeeze your penis when the air in the cup is exhausted when you press the Exhaust Button, providing numerous levels of pleasure! The best masturbator for men is the Sucking Vibrating Blowjob Masturbator. buy adult toys in Bangkok from our adult toys Bangkok store.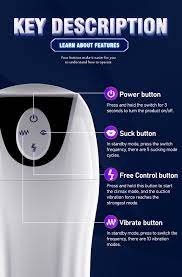 5 Strong sucking gives you wonderful oral sex.
When you experience realistic swallowing stimulation, your throat feels perfectly wrapped.
10 automated vibration settings for a variety of feelings
You have the strongest sense of vibration and suction during the one-click climax.
Easily cleanable, detachable sleeve
USB charging is portable.